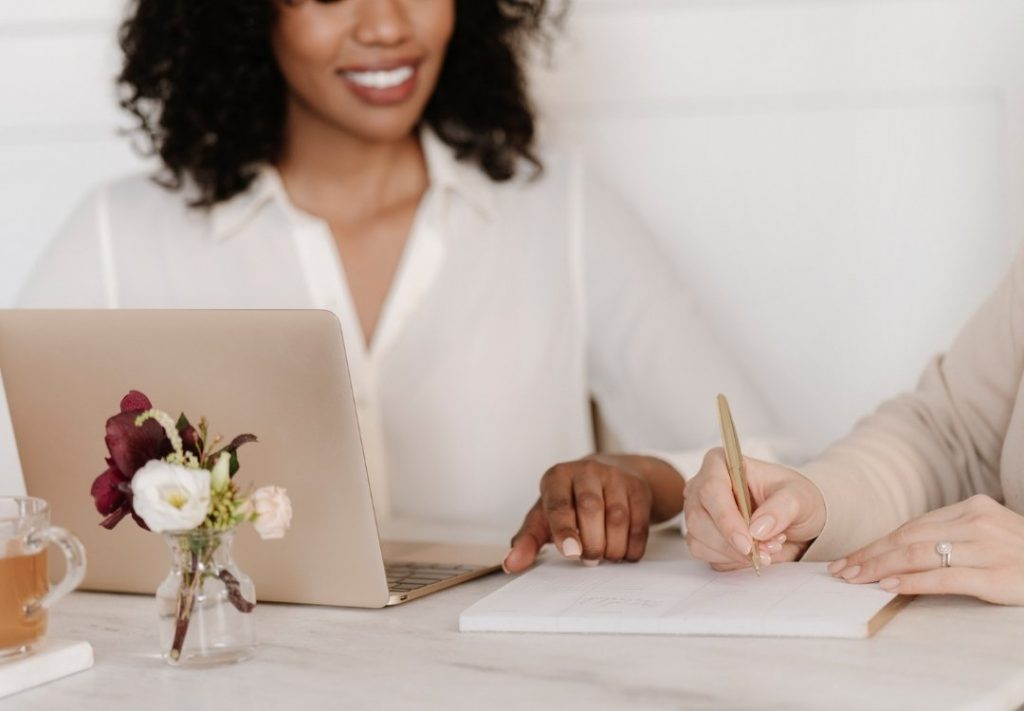 When it comes to market research, many small event businesses either don't bother or simply stalk and copy their competition. This can lead businesses to spend thousands of dollars and hundreds of hours on marketing that isn't connecting you with your ideal clients or allowing your business to really grow.
When you copy the competition, you end up looking like them. Couples won't know the difference and it can put you in a race to the bottom of a pricing war. Plus, you don't know if what they're doing is actually working. Engagement doesn't necessarily equal sales.
By doing this simple, lightweight research you'll position yourself in the market in a way your competition will have a hard time copying. You'll be able to use both your competitor's strengths and weaknesses to your benefit and you'll have a steady stream of content ideas that makes marketing practically effortless.
Tip 1: Start with your reviews
Start with you. Look at your own reviews on The Knot, WeddingWire, Google MyBusiness, Yelp, Etc. You've probably looked at them before, but take a moment to really objectively read through them and analyze what your clients are saying about you.
Look for patterns. Repetition is key. What are your clients consistently saying you do well that you should be shouting from the rooftops? Are there any areas where you don't do so well that you should correct before shouting from the rooftop? You have to be honest with yourself as you read through these reviews.
As you go through the reviews, note 3-7 consistent, major themes. Are you great at communication, organization, design, the most delicious food or desserts? Once you see the same compliments coming up again and again, note them. These are the things people love about you that you can utilize.
Why it works:
You'll stop spending time and money trying to bake something new and clever into your brand. Build on what is already out there. What people are already talking about.
When you base your marketing on what your ideal clients are actually saying, it becomes more credible. Your reviews will work for you, backing up your marketing campaigns.
Let's say your marketing says you're highly organized, if your potential clients can then go to your reviews and see the same statement, it instantly makes your marketing more reliable.
Furthermore, because you're using language from actual-ideal clients, your marketing messages will feel like you're reading their minds.
You will develop a strategic marketing message that's uniquely yours. You can stop mindlessly copying what's trending or what your competition is doing and find what makes you unique.
Copying the competition can be risky. First, you don't even know if it works. What looks good on the outside doesn't always make money inside the business. Second, Unless you are a commodity or interested in competing on price, you should have a unique differentiator that sets you apart from your competition. So being a copycat won't help you position yourself as different and better than your competition.
This process will allow you to find that unique thing that makes you shine. Plus, your competition will have a hard time copying it because their reviews will be different and unique to them. Therefore, if they do try and copy you, their marketing may seem off to potential clients or cause them to attract the wrong clients for their business. Either way, if they try to copy you, chances are it will backfire.
Tip 2: Stalk your competition

Speaking of your competition… Stalk them. Notice I said stalk not copy.
Conduct the same review research on your competition as you did for yourself. Go through their reviews looking for patterns.
Step 1: Figure out what you both do well. This is called market parity and you need to keep it up to stay on the playing field.
Step 2: Figure out what your competition does well. You also want to note what your competition is known for (even if you do it too). This is called market ownership. If you both do the same things but your competition's reviews consistently mention it, but yours don't, sorry to say it but, they "own" that thing. Trying to catch up to them and compete with them on the same concept can take a long time and end up being costly, both in marketing expenses and in price wars.
Step 3: Figure out what your competition doesn't do well. If you have competition with negative reviews, you're in luck. You can use their customer complaints against them, especially if your reviews are glowing in that same area. Even if you don't get glowing reviews in the area your competition gets negative ones and you can still use it against them.
Step 4: Revisit what you do well (this is called market ownership.) If you do something well and your competition doesn't or if reviewers don't mention it with your competition, you have market ownership with that concept. It will be a key messaging category moving forward.
Why it works:

Just like when you did your own market research, understanding what real clients are saying can help them feel understood and build trust more rapidly. This will help you naturally attract your ideal clients.
It also creates clear differentiators between you and your competition. Differentiators that are then backed by your reviews. This also mitigates competing solely on price.
At this point, you'll not only have what makes you unique dialed in, you'll know how to better position yourself against the competition. Leverage both your strengths and their weaknesses to better position yourself.
Tip 3: Research in the "Wild"
Use Facebook groups.
Yes, couples are on Facebook, but they are primarily using groups to ask questions and share information. Search for various 'wedding support groups' on Facebook. If you can find groups that are local to your area, that's even better. You're going to want to find groups that are active and have a decent number of members.
Be respectful of the space you're entering. Read the moderator's terms and be upfront that you are a vendor and promise not to spam or promote. Not all groups will allow you in. Worst-case scenario, you can ask an employee or vendor to gain entry and research for you (I've done this in the past, always being careful not to violate the group rules).
Step 1:
Use keyword searches to find posts that pertain to your business. Look at the posts, comments, and answers.
Step 2:
Note any patterns or consistencies in core challenges couples face.
Step 3:
Note any misinformation other couples are dispensing (you can correct these myths on your website and your content marketing.
Why it works:
This process gives you a broader perspective on what clients are going through when they are planning their events and sourcing vendors.
You can use this research to speak directly to your ideal clients. Create content that dispels common myths, which has the added benefit of managing expectations. Answer common questions, which builds trust. Provide solutions to common problems, which builds authority.
Done right, you'll have a huge repository of ideas for creating blog posts, marketing emails, and social posts that are the exact content that your clients will find most valuable and that builds trust and authority for your business and brand.
The more clients turn to you for information and answers, the more likely they will be to do business with you over your competition. No matter how pretty their Instagram feed is or how fierce they are on Stories, Reels in the DMS.
Once you have your research done, brainstorm content categories and messaging. This is where you get creative. Figure out how to market around what you've learned.
Use this information everywhere, not just in major marketing campaigns and blog posts. Always have something to say that is meaningful to potential ideal clients, even if it's just the caption to an Instagram post or a response to a Facebook comment.
Finally, be consistent. As you build your campaign you have to be consistent. Consistency allows you to measure and grow.