Mountainside
SPEAKING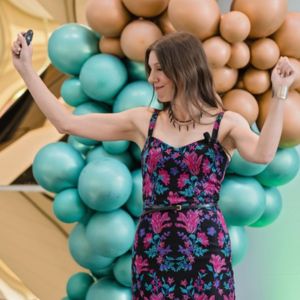 Speaker and Educator Christie Osborne is a proud analytics geek on a mission to simplify data-based marketing for event and wedding pros.
She has helped event pros turn data into dollars at dozens of speaking events, from national stages like NACE National, TSE, Catersource, and Wedding MBA, to local NACE, WIPA, and ILEA chapter meetings and even boutique conferences, including Be Sage and POSH.
Along the way, Christie has been nominated as NACE's Speaker of the Year twice and routinely receives positive feedback for making technical concepts accessible and actionable. Christie is also a regular contributor to industry publications, including Special Events, Catersource, Sage Wedding Pros, and Wedding Business Magazine. She has also been interviewed for her thought leadership in Authority Magazine.
---
CURRENT TOPICS
Is My Marketing Even Working? Using Analytics to Address Core Marketing Problems
Google Analytics for Busy Business Owners
Gaining a Market Advantage with Competitive Research
The Secret Formula Behind Unstoppable Social Media Ad Campaigns
No Blog, No Worries: How to earn qualified web traffic without a blog
Effective Communication in the Face of Natural Disasters
Available speaking dates book well in advance, so it's best to contact us at christie@mountainsidemedia.com as soon as you have your event date and speaker budget confirmed.
---
See Christie in Action
{{{ data.renderFieldsMarkedRequired() }}}
{{{ data.beforeFields }}}
<# /* * This is our main field template. It's called for every field type. * Note that must have ONE top-level, wrapping element. i.e. a div/span/etc that wraps all of the template. * *
*
* Cool Stuff *
* * Hello World! * *
* * is OK. * *
* Cool Stuff *
* * Hello World! * * * is NOT ok because each of those items is on the top-level. */ #> {{{ ( 'before_everything' === data.desc_pos ) ? data.renderDescText() : '' }}} <# /* * Render our label. */ #> <# if ( ! ( 'checkbox' === data.type || '_rainmaker_gdpr_checkbox' === data.type ) ) { #> {{{ ( 'before_label' === data.desc_pos ) ? data.renderDescText() : '' }}} {{{ data.renderLabel() }}} {{{ ( 'after_label' === data.desc_pos ) ? data.renderDescText() : '' }}} <# } else if ( ( 'left' === data.label_pos ) || ( 'above' === data.label_pos ) ) { #> {{{ ( 'before_label' === data.desc_pos ) ? data.renderDescText() : '' }}} {{{ data.renderLabel() }}} {{{ ( 'after_label' === data.desc_pos ) ? data.renderDescText() : '' }}} <# } #> <# /* * Render our field element. Uses the template for the field being rendered. */ #>
{{{ data.renderElement() }}}
<# if ( ( 'checkbox' === data.type || '_rainmaker_gdpr_checkbox' === data.type ) && ( ( 'right' === data.label_pos ) || ( 'below' === data.label_pos ) ) ) { #> {{{ ( 'before_label' === data.desc_pos ) ? data.renderDescText() : '' }}} {{{ data.renderLabel() }}} {{{ ( 'after_label' === data.desc_pos ) ? data.renderDescText() : '' }}} <# } #> <# /* * Render our Description Text. */ #> {{{ ( 'after_everything' === data.desc_pos ) ? data.renderDescText() : '' }}}
{{{ ( 'after_everything' !== data.desc_pos ) ? data.renderDescText() : '' }}}
{{{ data.renderElement() }}}
{{{ ( 'after_everything' === data.desc_pos ) ? data.renderDescText() : '' }}}
{{{ data.msg }}}
{{{ data.msg }}}
{{{ data.renderFieldsMarkedRequired() }}}
{{{ data.beforeFields }}}
<# /* * This is our main field template. It's called for every field type. * Note that must have ONE top-level, wrapping element. i.e. a div/span/etc that wraps all of the template. * *
*
* Cool Stuff *
* * Hello World! * *
* * is OK. * *
* Cool Stuff *
* * Hello World! * * * is NOT ok because each of those items is on the top-level. */ #> {{{ ( 'before_everything' === data.desc_pos ) ? data.renderDescText() : '' }}} <# /* * Render our label. */ #> <# if ( ! ( 'checkbox' === data.type || '_rainmaker_gdpr_checkbox' === data.type ) ) { #> {{{ ( 'before_label' === data.desc_pos ) ? data.renderDescText() : '' }}} {{{ data.renderLabel() }}} {{{ ( 'after_label' === data.desc_pos ) ? data.renderDescText() : '' }}} <# } else if ( ( 'left' === data.label_pos ) || ( 'above' === data.label_pos ) ) { #> {{{ ( 'before_label' === data.desc_pos ) ? data.renderDescText() : '' }}} {{{ data.renderLabel() }}} {{{ ( 'after_label' === data.desc_pos ) ? data.renderDescText() : '' }}} <# } #> <# /* * Render our field element. Uses the template for the field being rendered. */ #>
{{{ data.renderElement() }}}
<# if ( ( 'checkbox' === data.type || '_rainmaker_gdpr_checkbox' === data.type ) && ( ( 'right' === data.label_pos ) || ( 'below' === data.label_pos ) ) ) { #> {{{ ( 'before_label' === data.desc_pos ) ? data.renderDescText() : '' }}} {{{ data.renderLabel() }}} {{{ ( 'after_label' === data.desc_pos ) ? data.renderDescText() : '' }}} <# } #> <# /* * Render our Description Text. */ #> {{{ ( 'after_everything' === data.desc_pos ) ? data.renderDescText() : '' }}}
{{{ ( 'after_everything' !== data.desc_pos ) ? data.renderDescText() : '' }}}
{{{ data.renderElement() }}}
{{{ ( 'after_everything' === data.desc_pos ) ? data.renderDescText() : '' }}}
{{{ data.msg }}}
{{{ data.msg }}}
{{{ data.renderFieldsMarkedRequired() }}}
{{{ data.beforeFields }}}
<# /* * This is our main field template. It's called for every field type. * Note that must have ONE top-level, wrapping element. i.e. a div/span/etc that wraps all of the template. * *
*
* Cool Stuff *
* * Hello World! * *
* * is OK. * *
* Cool Stuff *
* * Hello World! * * * is NOT ok because each of those items is on the top-level. */ #> {{{ ( 'before_everything' === data.desc_pos ) ? data.renderDescText() : '' }}} <# /* * Render our label. */ #> <# if ( ! ( 'checkbox' === data.type || '_rainmaker_gdpr_checkbox' === data.type ) ) { #> {{{ ( 'before_label' === data.desc_pos ) ? data.renderDescText() : '' }}} {{{ data.renderLabel() }}} {{{ ( 'after_label' === data.desc_pos ) ? data.renderDescText() : '' }}} <# } else if ( ( 'left' === data.label_pos ) || ( 'above' === data.label_pos ) ) { #> {{{ ( 'before_label' === data.desc_pos ) ? data.renderDescText() : '' }}} {{{ data.renderLabel() }}} {{{ ( 'after_label' === data.desc_pos ) ? data.renderDescText() : '' }}} <# } #> <# /* * Render our field element. Uses the template for the field being rendered. */ #>
{{{ data.renderElement() }}}
<# if ( ( 'checkbox' === data.type || '_rainmaker_gdpr_checkbox' === data.type ) && ( ( 'right' === data.label_pos ) || ( 'below' === data.label_pos ) ) ) { #> {{{ ( 'before_label' === data.desc_pos ) ? data.renderDescText() : '' }}} {{{ data.renderLabel() }}} {{{ ( 'after_label' === data.desc_pos ) ? data.renderDescText() : '' }}} <# } #> <# /* * Render our Description Text. */ #> {{{ ( 'after_everything' === data.desc_pos ) ? data.renderDescText() : '' }}}
{{{ ( 'after_everything' !== data.desc_pos ) ? data.renderDescText() : '' }}}
{{{ data.renderElement() }}}
{{{ ( 'after_everything' === data.desc_pos ) ? data.renderDescText() : '' }}}
{{{ data.msg }}}
{{{ data.msg }}}
{{{ data.renderFieldsMarkedRequired() }}}
{{{ data.beforeFields }}}
<# /* * This is our main field template. It's called for every field type. * Note that must have ONE top-level, wrapping element. i.e. a div/span/etc that wraps all of the template. * *
*
* Cool Stuff *
* * Hello World! * *
* * is OK. * *
* Cool Stuff *
* * Hello World! * * * is NOT ok because each of those items is on the top-level. */ #> {{{ ( 'before_everything' === data.desc_pos ) ? data.renderDescText() : '' }}} <# /* * Render our label. */ #> <# if ( ! ( 'checkbox' === data.type || '_rainmaker_gdpr_checkbox' === data.type ) ) { #> {{{ ( 'before_label' === data.desc_pos ) ? data.renderDescText() : '' }}} {{{ data.renderLabel() }}} {{{ ( 'after_label' === data.desc_pos ) ? data.renderDescText() : '' }}} <# } else if ( ( 'left' === data.label_pos ) || ( 'above' === data.label_pos ) ) { #> {{{ ( 'before_label' === data.desc_pos ) ? data.renderDescText() : '' }}} {{{ data.renderLabel() }}} {{{ ( 'after_label' === data.desc_pos ) ? data.renderDescText() : '' }}} <# } #> <# /* * Render our field element. Uses the template for the field being rendered. */ #>
{{{ data.renderElement() }}}
<# if ( ( 'checkbox' === data.type || '_rainmaker_gdpr_checkbox' === data.type ) && ( ( 'right' === data.label_pos ) || ( 'below' === data.label_pos ) ) ) { #> {{{ ( 'before_label' === data.desc_pos ) ? data.renderDescText() : '' }}} {{{ data.renderLabel() }}} {{{ ( 'after_label' === data.desc_pos ) ? data.renderDescText() : '' }}} <# } #> <# /* * Render our Description Text. */ #> {{{ ( 'after_everything' === data.desc_pos ) ? data.renderDescText() : '' }}}
{{{ ( 'after_everything' !== data.desc_pos ) ? data.renderDescText() : '' }}}
{{{ data.renderElement() }}}
{{{ ( 'after_everything' === data.desc_pos ) ? data.renderDescText() : '' }}}
{{{ data.msg }}}
{{{ data.msg }}}
{{{ data.renderFieldsMarkedRequired() }}}
{{{ data.beforeFields }}}
<# /* * This is our main field template. It's called for every field type. * Note that must have ONE top-level, wrapping element. i.e. a div/span/etc that wraps all of the template. * *
*
* Cool Stuff *
* * Hello World! * *
* * is OK. * *
* Cool Stuff *
* * Hello World! * * * is NOT ok because each of those items is on the top-level. */ #> {{{ ( 'before_everything' === data.desc_pos ) ? data.renderDescText() : '' }}} <# /* * Render our label. */ #> <# if ( ! ( 'checkbox' === data.type || '_rainmaker_gdpr_checkbox' === data.type ) ) { #> {{{ ( 'before_label' === data.desc_pos ) ? data.renderDescText() : '' }}} {{{ data.renderLabel() }}} {{{ ( 'after_label' === data.desc_pos ) ? data.renderDescText() : '' }}} <# } else if ( ( 'left' === data.label_pos ) || ( 'above' === data.label_pos ) ) { #> {{{ ( 'before_label' === data.desc_pos ) ? data.renderDescText() : '' }}} {{{ data.renderLabel() }}} {{{ ( 'after_label' === data.desc_pos ) ? data.renderDescText() : '' }}} <# } #> <# /* * Render our field element. Uses the template for the field being rendered. */ #>
{{{ data.renderElement() }}}
<# if ( ( 'checkbox' === data.type || '_rainmaker_gdpr_checkbox' === data.type ) && ( ( 'right' === data.label_pos ) || ( 'below' === data.label_pos ) ) ) { #> {{{ ( 'before_label' === data.desc_pos ) ? data.renderDescText() : '' }}} {{{ data.renderLabel() }}} {{{ ( 'after_label' === data.desc_pos ) ? data.renderDescText() : '' }}} <# } #> <# /* * Render our Description Text. */ #> {{{ ( 'after_everything' === data.desc_pos ) ? data.renderDescText() : '' }}}
{{{ ( 'after_everything' !== data.desc_pos ) ? data.renderDescText() : '' }}}
{{{ data.renderElement() }}}
{{{ ( 'after_everything' === data.desc_pos ) ? data.renderDescText() : '' }}}
{{{ data.msg }}}
{{{ data.msg }}}
{{{ data.renderFieldsMarkedRequired() }}}
{{{ data.beforeFields }}}
<# /* * This is our main field template. It's called for every field type. * Note that must have ONE top-level, wrapping element. i.e. a div/span/etc that wraps all of the template. * *
*
* Cool Stuff *
* * Hello World! * *
* * is OK. * *
* Cool Stuff *
* * Hello World! * * * is NOT ok because each of those items is on the top-level. */ #> {{{ ( 'before_everything' === data.desc_pos ) ? data.renderDescText() : '' }}} <# /* * Render our label. */ #> <# if ( ! ( 'checkbox' === data.type || '_rainmaker_gdpr_checkbox' === data.type ) ) { #> {{{ ( 'before_label' === data.desc_pos ) ? data.renderDescText() : '' }}} {{{ data.renderLabel() }}} {{{ ( 'after_label' === data.desc_pos ) ? data.renderDescText() : '' }}} <# } else if ( ( 'left' === data.label_pos ) || ( 'above' === data.label_pos ) ) { #> {{{ ( 'before_label' === data.desc_pos ) ? data.renderDescText() : '' }}} {{{ data.renderLabel() }}} {{{ ( 'after_label' === data.desc_pos ) ? data.renderDescText() : '' }}} <# } #> <# /* * Render our field element. Uses the template for the field being rendered. */ #>
{{{ data.renderElement() }}}
<# if ( ( 'checkbox' === data.type || '_rainmaker_gdpr_checkbox' === data.type ) && ( ( 'right' === data.label_pos ) || ( 'below' === data.label_pos ) ) ) { #> {{{ ( 'before_label' === data.desc_pos ) ? data.renderDescText() : '' }}} {{{ data.renderLabel() }}} {{{ ( 'after_label' === data.desc_pos ) ? data.renderDescText() : '' }}} <# } #> <# /* * Render our Description Text. */ #> {{{ ( 'after_everything' === data.desc_pos ) ? data.renderDescText() : '' }}}
{{{ ( 'after_everything' !== data.desc_pos ) ? data.renderDescText() : '' }}}
{{{ data.renderElement() }}}
{{{ ( 'after_everything' === data.desc_pos ) ? data.renderDescText() : '' }}}
{{{ data.msg }}}
{{{ data.msg }}}
{{{ data.renderFieldsMarkedRequired() }}}
{{{ data.beforeFields }}}
<# /* * This is our main field template. It's called for every field type. * Note that must have ONE top-level, wrapping element. i.e. a div/span/etc that wraps all of the template. * *
*
* Cool Stuff *
* * Hello World! * *
* * is OK. * *
* Cool Stuff *
* * Hello World! * * * is NOT ok because each of those items is on the top-level. */ #> {{{ ( 'before_everything' === data.desc_pos ) ? data.renderDescText() : '' }}} <# /* * Render our label. */ #> <# if ( ! ( 'checkbox' === data.type || '_rainmaker_gdpr_checkbox' === data.type ) ) { #> {{{ ( 'before_label' === data.desc_pos ) ? data.renderDescText() : '' }}} {{{ data.renderLabel() }}} {{{ ( 'after_label' === data.desc_pos ) ? data.renderDescText() : '' }}} <# } else if ( ( 'left' === data.label_pos ) || ( 'above' === data.label_pos ) ) { #> {{{ ( 'before_label' === data.desc_pos ) ? data.renderDescText() : '' }}} {{{ data.renderLabel() }}} {{{ ( 'after_label' === data.desc_pos ) ? data.renderDescText() : '' }}} <# } #> <# /* * Render our field element. Uses the template for the field being rendered. */ #>
{{{ data.renderElement() }}}
<# if ( ( 'checkbox' === data.type || '_rainmaker_gdpr_checkbox' === data.type ) && ( ( 'right' === data.label_pos ) || ( 'below' === data.label_pos ) ) ) { #> {{{ ( 'before_label' === data.desc_pos ) ? data.renderDescText() : '' }}} {{{ data.renderLabel() }}} {{{ ( 'after_label' === data.desc_pos ) ? data.renderDescText() : '' }}} <# } #> <# /* * Render our Description Text. */ #> {{{ ( 'after_everything' === data.desc_pos ) ? data.renderDescText() : '' }}}
{{{ ( 'after_everything' !== data.desc_pos ) ? data.renderDescText() : '' }}}
{{{ data.renderElement() }}}
{{{ ( 'after_everything' === data.desc_pos ) ? data.renderDescText() : '' }}}
{{{ data.msg }}}
{{{ data.msg }}}