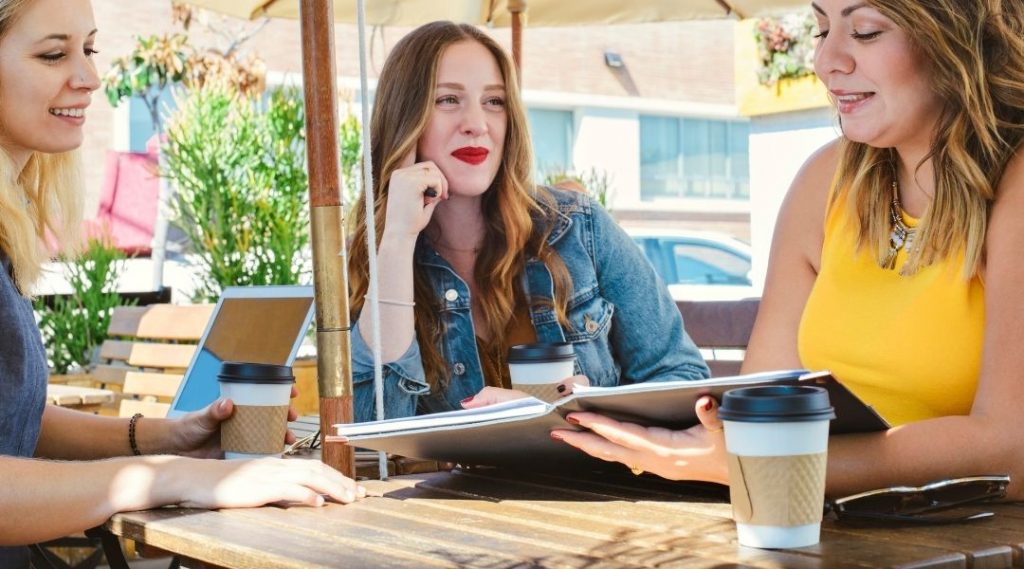 Marketing is really just a giant puzzle that challenges business owners to find the right formula that attracts ideal clients and influences their purchasing decisions. Yet, it can feel challenging when you feel the need to reach every generation in the market, especially when you consider that the oldest members of Generation Z are in their early 20s whereas older members of Generation X are in their mid-50s.
Each generation has grown up with different expectations for their event, in addition to entirely unique views on technology use. While many Gen Xers may have had an early mobile phone the size of a milk carton, Gen Z has grown up with small-but powerful smartphones that connect them to anything and everything in the world. 
Of course, marketing isn't just about technology and the channels you use to convey your messaging. In fact, it's more about psychology than anything else.
So, how can a business owner reach every generation in the market without spending all of your time and energy on multiple approaches?
Let's start by taking a look at each of these generations.
Generation X
Gen X grew up in the pre-internet era, but experienced the tech boom at an age where they were able to embrace the growth of technology. This is a computer-literate generation, but most aren't spending hours scrolling through social media or reading listicles about pop culture.
Although they can be skeptical of being short-changed and taken advantage of, this means they can become very loyal to the brands that satisfy their needs. They don't expect as much customization as younger generations and will meet you with patience when deserved. Since they are generally more established than younger generations, Gen Xers are also more inclined to pay more for quality products and services.
How to reach them: 
Building trust with Gen X is critical and best done through a mix of traditional marketing (i.e. print ads, radio spots, etc.) and digital marketing (email blasts, social media ads, etc.). Focus your messaging around the value you can bring to them, supporting your claims with awards, achievements, and testimonials that provide third-party credibility.
Generation Y
Generation Y, better known as 'Millennials,' are in their mid-20s to late 30s, so they've grown up with the internet but likely remember the days of dial-up connections and AOL discs in the mail. For them, the internet isn't a luxury but rather a valuable tool to help them navigate life. 
When Millennials are browsing options on the market, their purchasing decisions are less about picking a product or service that checks off the necessary boxes, but rather about investing in a lifestyle. They expect a personalized experience that feels as if it was designed just for them. While they tend to be pretty loyal, their trust must first be earned through careful and intentional messaging that is tailored to their specific needs. 
How to reach them:
While Gen X responds well to a list of features, Millennials want to know more about how your product or services will benefit them in real life. Since they are often on their phones or computers, digital marketing is the ideal way to reach them — particularly through social media and email marketing. Online advertising works well with this demographic.
Generation Z
In their mid-20s or younger, members of Generation Z (or Zoomers, as they've been named) don't know life without technology at their fingertips. They've lived only in the digital age, which has led to the shortest attention span of all the generations in the current market. Thus, they value instant gratification and expect easy access to information.
However, this is a generation that has grown up being targeted with marketing messages, so they've learned how to filter out the valuable from the not-so-valuable. They have a keen eye for quality and know they have many options at their disposal, so they are quick to try new brands if one doesn't meet expectations. Additionally, due to the reach of social media, Zoomers make up a globally-minded and socially responsible generation that values privacy and fair treatment of all.
How to reach them:
Gen Zers want to know that you know what you're doing, but they don't care to wait around to find out. Therefore, you need to use social media, email marketing, and guest articles to provide quick, bite-sized messaging that captures their attention, showcases your knowledge, and draws them into your marketing funnel.
So, is this all to say you need three separate marketing approaches to meet every generation in the market?
Absolutely not.
The vast majority of industry professionals have an ideal client avatar that falls into one, maybe two generations, whether that's newly engaged couples in their 20s or corporate executives who have spent decades climbing the ladder. Many businesses simply don't need to meet every generation on their level; usually, you just need to understand the psychology of your chosen demographic in order to succeed.
Still, all of these generations ultimately share one thing in common that ties together an effective marketing approach: they are all human.
As humans, we all have innate needs, desires, and responses that we can relate to in one another. While the marketing tactics may differ, your messaging should remain consistent. Present your expertise, your accomplishments, your client experience, and the value you bring to the table. At the end of the day, what Gen Z desires on the surface is what every person seeks deep down: true, authentic relationships and a high-quality product or service.
Reaching your ICA through Email Marketing
As you may have noticed in the generational profiles, email marketing is a tactic that resonates with everyone. Email is not dead—in fact, it's very much alive so it's vital that we show up in our prospective clients' inboxes, no matter their age.
Yet, each generation carries distinct expectations when opening a marketing email. What might get a Gen Xer to click through to your website could turn away Millennial readers. 
While Gen X may want to know the whole story behind your brand before taking the next step, Millennials and Zoomers respond more favorably to succinct messaging that gets straight to the point. After all, most of them are checking emails on their phone and don't care to spend time endlessly scrolling through a message.
Since younger generations value bite-sized content, several short and punchy emails will go much further than one long, drawn-out email. If they start to feel overloaded with information, they will click away and look for the next easily-accessible tidbit of content.
In your messaging, don't be afraid to show your personality. People of all ages want to work with a brand that feels authentic and a large part of that is simply showing a bit of vulnerability. Be yourself and showcase what you have to offer. Build your brand around what sets you apart from others and you'll earn the trust and respect of your followers.
Emails aren't just about the words inside, though — you also need to consider design. Simplicity is key, but you need to be mindful about ensuring your marketing emails are interesting and engaging. Employ your brand colors to jazz up your emails and include an image or two to capture your readers' attention. However, don't go overboard with graphics — too much going on is a distraction and you want to keep it easy to read and digest.
Last but not least, finish your marketing emails with an irresistible offer. No human of any age can resist a tempting offer, so always wrap up with a clear call to action. Provide a discount code or entice them to book a free consultation call. You can lay out your sales pitch then, but your email marketing should be designed to build and nurture relationships above anything else.
With all that said, the key to reaching any generation is rather basic: be a human and engage with your ideal clients on a human level. It's easy to get lost in the noise of logos and colors and overly-curated feeds, but the one thing people truly want is a reliable brand that they can trust to meet their needs. How you achieve this will vary based upon your ideal client's demographics, but ultimately, authenticity forms the foundation of any strong marketing strategy.