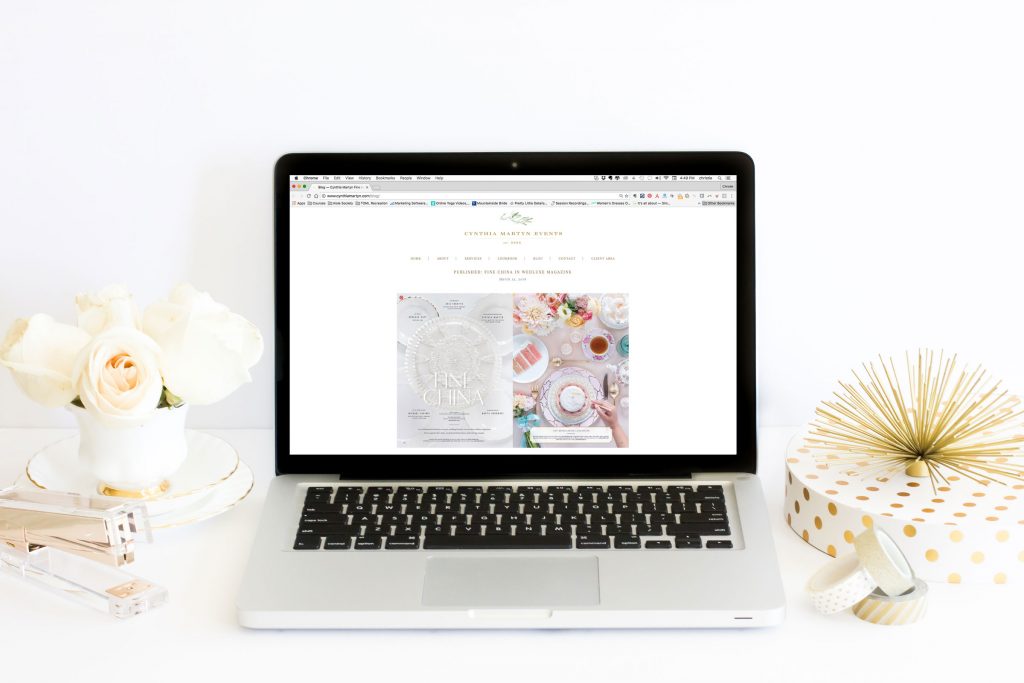 Maybe you have a big, beautiful, deliciously designed website and you're getting some traffic, but nothing like the amount of traffic that you want. Or maybe you know you need a redesign and can't afford it, so you need traffic and leads first.
Here's the problem: The internet currently has nearly 5 billion websites and Google regularly indexes almost 50 billion web pages. What that means for you is whether you have an awesome or not-so-awesome website, having a website alone doesn't mean you'll get found online. Making matters worse, on-page SEO and keyword-stuffing practices don't work as well as they used to, and they take a long time to see any results.
So what can you do to increase your web exposure? In a word: Blog.
Starting and maintaining a blog, where you post new content at least once per week or once every other week, can help you get more traffic, connect with online influencers and bloggers, and ultimately book more brides.
Here are the top five reasons (and some tips) for using a blog to get more traffic and grow your business.
Reason #1: Show off your most recent work.
According to Splendid Insights 2016 Global Wedding Survey, once brides get past the inspiration phase, they are actively looking for the right vendors.
A blog allows you to show off your most recent work, and attract your ideal bride. A blog also lets you position yourself as an expert, and can be as easy as answering the most frequently asked questions you get during consultations.
Tips for showing off your work:
If you're not a photographer, but have worked with professional wedding photographers at a wedding, then contact them and ask if you can share their images of your work on your website and new blog. You will need to credit the photographer and link back to their site. You may even have to use watermarked images to protect their copyright. Keep in mind that using a photographer's professional images is a privilege and not a right. Not all photographers will release their photos to fellow vendors. If they don't provide you with permission to use their images, then respect that and move on.
Arrange for professional photos ahead of time. If the photographer hired by the couple isn't interested in sharing her or his work, hire your own photographer for an hour or so to capture your work. Better yet, learn better photography techniques. You don't need a fancy camera to take great pictures. Many online courses are available to teach you how to use the manual settings on a basic point-and-shoot camera to get fabulous pictures, and entry-level DSLRs cost around $500. Check out Creative Live, Lynda, SkillShare and my favorite, Click Love Grow for easy, online photography-for-creative-business courses.
Choose your best work to attract your ideal bride. A blog is a wonderful way to attract your ideal bride, but to do that you must be selective. Showcase the work that you truly love and that your ideal bride will love too. Did you take on a client who was difficult and had you do things you're not so proud of? Leave the pictures out of your blog and portfolio. You don't want to attract that type of client again!
Write "case studies" of your work with real clients. Explain the individual circumstances of how you handled their needs, requests and problems and showcasing your customer service. This tells the story of what it's like to work with you. Want to maintain the privacy of your clients? Just use fictitious names for them.
Become an instant expert in your potential clients' eyes by answering Frequently Asked Questions. Here's the trick: Don't just slap a FAQ list on a web page. To really leverage the power of your blog turn each question into a fully formed blog post. This will give you a steady stream of early content. Then, once you've answered every question, create an FAQ page and link to all of your blog posts from it. Google loves internal linking like that, and clients love the ease of finding the FAQs all in one place.
Reason #2: Give Google a steady stream of content to index
Again, according Splendid Insights 2016 Global Wedding Survey, SEO is as important than ever for brides finding local vendors, and Google LOVES new content to index. Writing relevant, SEO-optimized blog posts once a week can go far in elevating your search rankings. While this tactic takes time, it's well worth it. Plan on seeing results after 6 to 12 months of blogging.
Tips for optimizing your blog for search:
Use language that matters to your ideal bride. Yes, you want to have relevant keywords in your title, body and metatags, but I see too many vendors fall too quickly into the keyword-stuffing trap. Focus on your ideal client first, not Google. Google isn't getting married. And remember, those 50 billion pages you're competing against? A better strategy for finding and attracting clients is not to think of how to game Google (you can't), but rather to use language that matters to your ideal brides. Not only is this what they'll put into the searchbox to find you, but it will also signal to them that they are in the right place once they get to your website and blog.
Write content that relates to the rest of your site. For example, if you're a baker, write content about wedding cakes. You can write about trends, flavor pairings, and seasonal considerations for your region, such as how to care for your buttercream wedding cake during hot and humid summer months. If you're a photographer, discuss the best vistas for your location or how to pose for beautiful and natural-looking wedding pictures. I see too many vendors fall back on writing wedding planning advice. Leave the wedding planning content for the wedding planners.
Trickle out your content. Most of us have time in the "off-season" to catch our breaths and do things like blog. But Google (not to mention brides and influencers) prefer a steady and regular stream of content. Therefore, it's best to write and schedule out your content, even during those times you'll be too busy to write. Get ahead of the game by writing all those FAQs or case studies from last season and scheduling them to post during your busy times.
Link to your blog from your web pages. As you start producing high-quality content on your blog, especially tips, advice and case studies, start linking to it on the pages of your main website. Google loves to see relevant internal linking.
Don't forget to optimize your images. I see so many vendors posting images that are several megabytes large and the file name is gobbledygook. You know, something like 12743850_1310093962339066.jpg. Make sure you rename your images before uploading them, and include any relevant words for your industry and location. Also, please note that resizing the width and height of your image on your blog will not reduce the file size. I've seen plenty of 3MB files that were 600px wide. That's a no-no. It slows down your site (which Google hates) and eats up data on a mobile phone (which your web visitors hate). Do everyone a favor and optimize your images for web.
Reason #3: Give influencers something to share on social
Strong social signals like sharing and liking help drive traffic to your website. Influencers like bloggers are always looking to share fresh, engaging, valuable, and unique content with their audiences. The key in that last sentence is writing fresh, engaging and valuable content. This can be a unique and modern take on an old topic or exploring a fresh new style. Don't think for a moment that you can write the same old tired stuff that anyone can find in a wedding planning book and it will go viral. It won't. Make sure you're putting your unique stamp and brand on your content.
Tips for attracting and working with influencers:
Don't just broadcast, engage. The trick to getting the attention of influencers is that you must act like a real human being, and not an online billboard. Once you put your piece of content out onto social media, genuinely start to engage with others in a meaningful way to get attention. Like other people's content. Comment on their posts. Share their stuff. Do this regularly with the influencers you adore and I promise they'll notice!
Share and share alike. You can't expect anyone to share your content if you're not also sharing theirs. The internet is very much a quid pro quo environment. If you want your content shared, you'd better start sharing. Be sure to share content that truly fits your audience and ideal bride, and to @mention the person whose work you're sharing. The mention helps you give credit where credit is due and signals that you are a fan of their work. Understand that sharing does not always guarantee that the exact influencer will share your work in return, but the more generous you are online, the more people will notice and the more your own fabulous content will get shared organically.
Grow your relationships. Once you have the attention of an influencer, grow that relationship with them. Share their work, and strike up meaningful conversations online by @mentioning them. Figure out how you can help and support them. Be generous.
Ditch the sense of entitlement. Here's the deal. Influencers make their money by selling their influence to advertisers. They came to be influencers because they know their audience well and have spent years growing and engaging with it. If your content isn't a fit for your favorite blogger or they send you their media kit and advertising package when you ask them to share your content, then don't get offended. Simply understand that just as you sell a service to brides, influencers are selling a service (exposure) to vendors and brands. Some influencers will freely share your awesome content, others will not. Just keep being an awesome human being online and you'll be fine in the long run.
Reason #4: Network and connect with colleagues
Again, according to Splendid Insights, vendor referrals are a top source of clients for wedding pros. Keep your colleagues in the loop about your projects and new blog, and actively engage and network with them online to keep your business and brand top-of-mind when your colleagues are making vendor recommendations to their clients. This is also a great way to connect and network if you're new to the game. Be generous with your comments, like, and share, and others will be generous with you. (Are you seeing a theme here?)
Tips for connecting and networking with colleagues:
Collaborate on a series or a new podcast. Ask noncompetitive vendors (that is, if you're a photographer, work with a planner. If you bake cakes, work with a florist) to collaborate on a blog series or a podcast with you. Do this in the off-season and schedule out your content during the busy season.
Ask colleagues to write guest posts. Again, pick noncompetitive vendors and have them write tips and tricks, or hottest-trends posts on your blog.
Ask if they accept guest posts. Get exposure and natural, inbound links from local vendor blogs by writing guests posts for them. Don't limit yourself to other wedding vendors. Does the Chamber of Commerce or Visitor's Bureau have a blog? Pitch your guest posting idea to them too.
Treat colleagues like "influencers" online and share their content too. Sure, your colleagues probably don't have as big an audience as top wedding bloggers, but their audience may be more relevant and targeted. Treat colleagues the same way you would treat your favorite blogger and influencer. Like, comment on, and share their fabulous content. Be generous with others and others will be generous to you.
Don't keep score. If you share a colleagues' work and they don't share back immediately, shake it off. It's a long game you're playing not a direct game of tit-for-tat. Focus on being an awesome human being full of kindness and generosity and people will eventually take notice. In other words, be patient and be kind.
Reason #5: You can work smarter by reusing and repurposing blog content
The beauty of building blog content is that you can repurpose it in many ways. You can parlay your blog posts into an eBook download, take bits and bytes and use it for social media, and grab valuable content and information for your email marketing. Once you write a single piece of content, you'll want to repurpose it as much as possible. Remember, work smarter and not harder.
Tips for repurposing blog content:
Plan out a blog-to-book content map. If you think of your blog as a magazine or book, you'll find that the ideas for content will overflow. The best part is you can slowly and steadily write your next book by breaking it up into bite-sized blog posts and posting regularly. You can have a book written in 6 to 12 months this way. Self publish it or offer it as an eBook download to grow your email list.
Have a steady stream of content to schedule on social media. One blog post can be a gold mine for dozens of pieces of content, including trends, tips and tricks, advice and case study nuggets.
Use blog content to easily launch your email marketing campaign. Instead of simply spamming your email list with deals and events, include excerpts from your latest blog posts featuring tips and tricks, the latest styles and highlights from recent weddings you worked on. When you include awesome content with your deals and events, brides are more likely to actually open your emails. And when they are ready to book you, they are more likely to click on your offers if they've come to know, like, and trust you because you've been so generous with your valuable and amazing content.
Hate writing? Start a podcast and have each episode transcribed for your blog. You can get transcription services for around $20 per episode. Then use the above ideas for repurposing all that amazing content.
Achieve Success with Your New Blog
Blogging is a powerful way to grow your authority as a wedding professional, attract your ideal bride, elevate your rankings in Google, and grow your social media audience.
The keys to starting and growing a successful blog is planning, patience and generosity. Plan out your content strategy and front-load your work in the shoulder season so you can auto-schedule content when you're busy. Be patient. Building a successful blog takes time. It's a long game that you have to play week in and week out, and will likely see scant results at first. Be patient and persistent and within a year, you will see your blog grow. Be generous. The internet is a naturally collaborative space. With 50 billion web pages out there, you need colleagues and influencers to refer you and share your posts if you want to get found. Be generous in your support of them and you'll find that others will be generous with you.