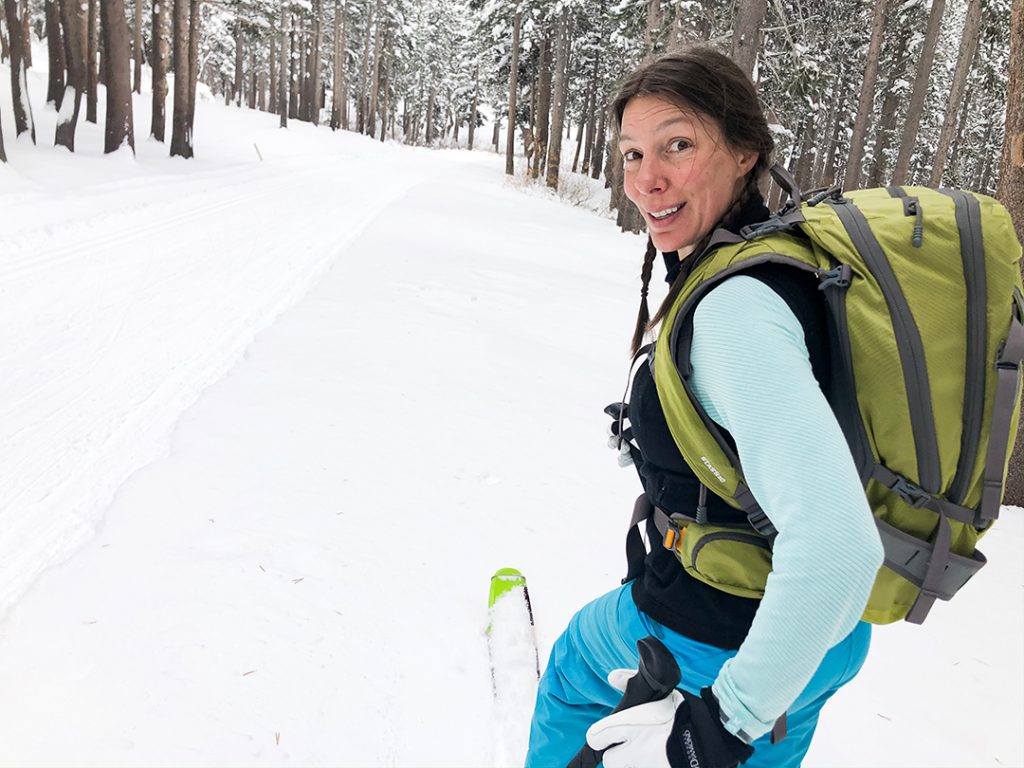 Living and skiing in my hometown reminds me a lot of the challenges and joys of marketing online.
First, like the Internet itself,  Mammoth Mountain can be a fairly crowded place. It's huge to be sure, but the resort is within driving distance of two major metropolitan areas, L.A. and San Fransisco. Millions of people descend upon this tiny, two-square-mile mountain town each year, so it can be crowded.
To escape the crowds, my Husband and I will go into the back country to ski. On my last trip, I got to thinking about 10 things back country skiing can teach you about being a great marketer.
TL;DR
1. Backcountry skiing is a niche that has both pros and cons, including leaving the crowds behind.
No everyone is interested in "earning their turns." It can be slow-going, somewhat boring, and sometimes, an occasional slog. Back country (BC) skiing takes skill. There are no grooming machines to make the slopes perfect and the conditions are often variable and challenging. If you can't ski well, your'e not going to have much fun in the back country. BC skiing also takes additional training and expertise. You need to know about snow science, avalanche danger, how to use your beacon, shovel and probe in case your partner gets buried, and you need to know some wilderness first aid and CPR.
But at its best, BC skiing allows you to leave the crowds behind. You're no longer competing with tens of thousands of other skiers for the best line. And you're part of a small but passionate community of enthusiasts, just like you.
Niche marketing is similar. It may take more time and more skill to get to where you are going in your marketing and business, but once you get there, you will find that competition is greatly diminished and you're surrounded by a small by mighty group of  serious enthusiasts.
2. Setting Out on Your Journey is Easy at First and Hardest at the End.
When you first arrive at the trail head, you're full of energy and anticipation. You're well dressed for the endeavor and excited about the prospect of getting some epic skiing in on pristine snow.
Then, a few miles in, you may start to feel tired and hungry. By the time you reach the final climb to your destination, you may be so tired you're resting at every switch back (especially in the beginning of the season, when you may be just a tad out of shape :-D)
Marketing campaigns are the same. It's easy to plan and start strong, but as week-after-week and month-after-month goes by, you can get tired, and want to stop, especially if you are trying something new. It's hard slogging through and there are no real quick wins in marketing or BC skiing. You have to put in the time and energy to get to your destination.
3. You have to Make Constant Adjustments
Back country skiing requires constant adjustments to your equipment. You may find yourself hot from the physical exertion in the morning sun, so you strip off a few layers of clothing. Then, you hit a shady forested section and the layers go back on. Then maybe you're adjusting your pole length or the climbing aid under your boots as the pitch of the slope gets steeper or gentler. There is no part of BC skiing that is set–it-and-forget-it.
Same with marketing. Great marketers are constantly making adjustments based on the context and conditions of the market.
4. It can Be Repetitive + Boring
A lot of backcountry skiing requires you to skin for miles before your get to your chosen destination. You will likely be skinning for hours, which is strenuous, repetitive, slow-going and boring.
The same with marketing, especially at the beginning when you are laying a strong foundation. It's posting everyday to a handful of people who care, it's blogging every week to what seems like no one, it's sending out those emails twice a month and getting very little response–at first.
But to get to your goals, you have to do the work, even if it's boring and even if it feels like a slog. There are very few quick wins in marketing and pretty much non in BC skiing. You just ned to do the boring, repetitive, but necessary work.
5. You Often Have to Improvise
Once you're out in the backcountry, you're out. There's no quick drive back to the house to pick up what ever you forgot. If you forget to do something, you have to keep going (unless it would be dangerous to do so).
During our last trip into the backcountry, both my husband and I forgot the protective mesh to put on our skins to keep them from sticking together when folded. This is crucial because when you get to the top of the mountain to ski down, you take your skins off your skis, fold them, roll them and stow them to ski back down on your bases.
Skins are designed to allow you to literally ski uphill. They have nylon fibers that allow you to glide your ski forward, one at a time, like you're cross country skiing, and then the fibers catch on the snow to prevent you from slipping back. While they are design to glide forward, they aren't designed to ski on, though you can kinda do it.
When we realized we had forgotten our mesh, we had to make the decision to keep going and improvise. We ended up "skiing" down in our skins. The skiing wasn't great, but being outside in the wilderness was, so we chalked it up as a success.
Marketing is similar. You can forget things when you're launching your new lead magnet. You can misjudge your audience or your message. During these times, it's important to assess your situation and see how you can improvise.
The only exception to this rule is if it puts you or your business in danger. One time, my husband went into the backcountry with his step dad and forgot his sunglasses. They may it back OK, but my husband came back with a Corneal sunburn. This could have caused "snow blindness" in the backcountry and put him and his step-dad in real danger for getting back out before dark.
In marketing, you also have to be vigilant that your decisions won't lead to financial ruin, a marred reputation or other dangers that could negatively affect your business.
6.  Once you Succeed, You're Only Halfway There.
You see those success posters all over the place, you know the ones of the victorious climbers standing on top of a snow-capped mountain with their arms held high. A trite quote about success, perseverance or  a quasi-spiritual concept like "It's not the mountain that we conquer, but ourselves."
Well, here's the thing most people don't think about: Once you get to the top, you still have to get down–making the accomplishment to getting to the top only half of the journey. You still have to get back to the car, which requires additional skinning, calorie burning and time.
The same is true with marketing. Once you get the lead, or the sale, it may feel like a great accomplishment (an it is) but you still have to deliver on your promises and care for your customers.
7. You MUST take care of yourself.
When you're burning hundreds and sometimes thousands of calories, exercising strenuously and in a high-altitude environment that can make you dehydrate even faster than exercise alone,  you have to make sure you replenish yourself. You need to eat when you're hungry, rest when you're tired and drink water or a hydration liquid when you are thirsty.
If you don't take care of yourself in the backcountry, you can "bonk out" or "hit a wall" and not be able to complete the trip.
The same is true for marketing, which is a marathon not a sprint. Marketing is a long-game. Don't believe the internet hype about the six-figures in six minutes with that "exclusive" Instagram ads swipe file. It's bullshit. The reality is that marketing can take a long time to reach a tipping point, and even once marketing becomes easier, you can't rest on your laurels. Technology and consumer demands can change overnight, rendering once successful marketing techniques practically useless.
Pro tip: Different people need to rest and recharge at different levels. In the backcountry, this is often based on their fitness level. IN marketing it can be based on experience or resources. If you're trying to do everything yourself, you'll need more frequent self care than someone with a staff to help shoulder the burden.
8. Preparation and Planning are Crucial
Conditions can go from favorable to terrible very quickly. Backcountry skiers can mitigate some with some planning by checking the weather before the trip, but weather in the mountains can be unpredictable with micro-climates brining in snow, fog and cold. To account for common dangers and pitfalls, back country skiers carry extra water, extra layers, sunglasses AND goggles, shovel, probe and an avalanche beacon.
In marketing, planning and preparation is equally crucial. It's great to have a solid plan where everything works out, but often times, once projects and campaigns launch, unfavorable conditions can present themselves, or unexpected events or accidents can develop. It's best to have a solid plan and some contingency plans too. What if the social media campaign flops? What if the wedding show was a complete waste of money? What if that venue, or planner or photographer starts referring someone else more?
Plan for a great campaign, but also plan for what to do when conditions get rough.
9. You Need the Right Equipment for the Job.
When I ski at the resort, I have hard boots, fixed bindings, and (dare I say) cute ski outfits. But if I used that stuff in the backcountry, i would be miserable at best and find it difficult to reach my goals at worst. The right equipment is crucial. In the backcountry, my gear is super light and flexible enough to allow me to ski uphill with relative ease.
Knowing what the right equipment is for the right job is important to marketing too. Vendor websites come to mind. I see far too many websites that are old, with outdated design and technology, that are not mobile-first and make it more difficult (rather than easier fo ra client to do business with you. Just as I buy new equipment every few seasons, you need to update your marketing tools as needed.
10. It May Not Be As Amazing as You Thought It Would Be.
Backcountry skiers seek the backcountry for many reasons, but one of the biggest draws to BC skiing is the promise of great snow conditions, whether it's light fluffy powder in the winter or creamy corn snow in the spring. Yet, sometimes, you'll get to your destination and find that the conditions are super firm and wind-affected or sun-cupped, making skiing super challenging and not really satisfying. You have just as much of a change of "survival skiing" as you do making epic turns in "hero snow." It's a crap shoot out there, and just because you put in the time and effort to reach your destination, doesn't mean you'll always be satisfied with the results.
So next time your slogging through your marketing efforts, board AF and thinking of quitting, or if you tried your hardest with lackluster results, think of the lessons from the back country and take heart, and keep going. In the big picture, it's really well worth the efforts.