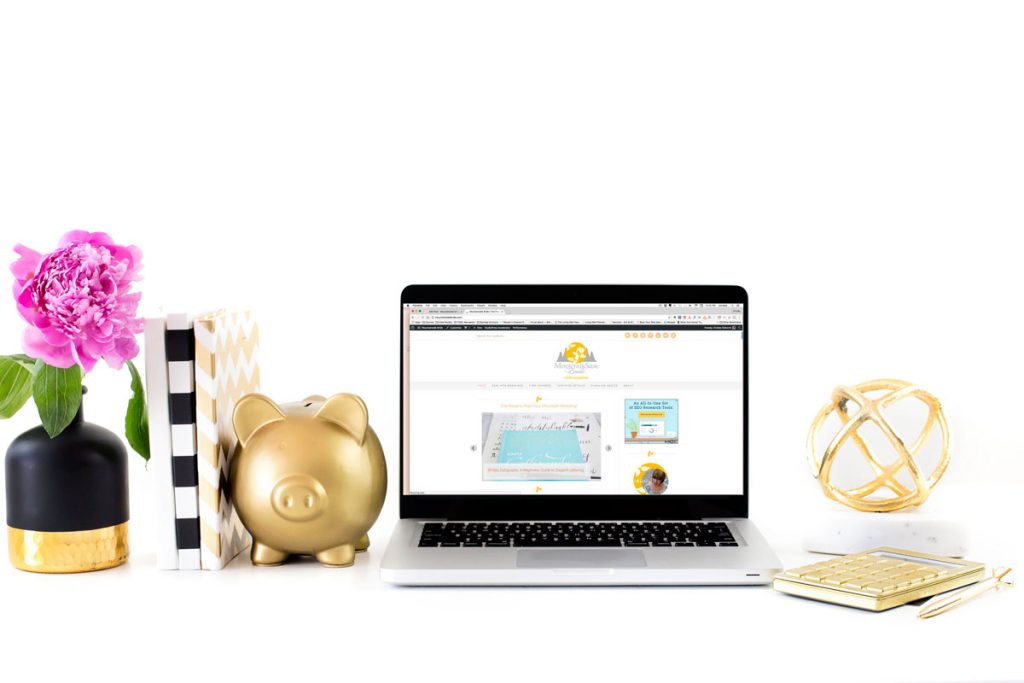 You're in the business of booking brides. Everything you do to market your business is oriented toward this single goal. No brides = no business. It's that simple. So why would you care about getting published on, or working with, a wedding blog? Let me start with this with a tale of two customers.
You Actually Have Two Customers.
On the one hand, the customer who pays your bills is the one that most often comes to mind, whether it's a bride, a groom or a parent. He or she makes sure your lights stay on, there's no question about that.
But, did you know you have another customer? This customer can be a powerful ally for getting your brand out there and getting more brides to notice you. That person is what Copyblogger calls your "second customer". Wedding bloggers are second customers. Their readers and audiences are big. They can share your work, celebrate your brand, and amplify your message to huge readerships. They are also key for connecting you to online influencers who can further spread your message. For example, I have found some of my favorite mountain wedding vendors on other blogs. Since my blog is a smaller, niche publication, I have a smaller audience, but I also attract highly-qualified traffic that drives vendor bookings.
What Exactly Are Wedding Blogs, Anyway?
Think of wedding blogs the same way as we used to think of magazines. They offer lots of free content and resources that attract brides, and they sell advertising to brands and vendors who want to increase their exposure to those readers. Blogs are in the business of growing web traffic and social media reach so they can pass that traffic and reach onto their advertisers. In fact, many blogs (even mid-sized blogs) have a far bigger readership than some regional print magazines. We're talking tens and even hundreds of thousands of monthly page views and and social media impressions.
Originally (circa 2007 or so), wedding blogs started as places where women who loved weddings could share inspiration, ideas, and occasionally, a real wedding. They produced so much content that they started ranking well in search engines and brides started using them to find high-quality wedding inspiration and information. Wedding professionals quickly realized that wedding blogs were amassing lots of traffic and sending a portion of that traffic to them through links, social media posts and, eventually, directory listings. Wedding blogs eventually grew into massive publications in their own rights, rivaling some of the biggest print magazines, forcing those magazines to change their publication practices, and also to start blogging themselves.
Marketing Machines That Work on Your Behalf
Essentially, modern wedding blogs are marketing machines. Those tens and even hundreds of thousands of readers and social media impressions they attract each month come through constant marketing and audience building. Blogging has turned into a full-time job for many people, and they spend their days promoting and curating their content and promoting real weddings in order to build a larger audience. If you've been featured on a wedding blog, or you are a directory member, you'll get a link to your site from their blog and you might get social media promotion around your feature or listing. In a nutshell, when you are featured on a wedding blog, that blogger is sharing her huge audience with you!
Two Types of Exposure for Your Business
In marketing parlance, there are two ways to get in front of a blogger's massive audience: through "earned media" and through "paid media."
Earned Exposure: This often takes the form of a real wedding publication or styled shoot. (Some bloggers also accept guest posts.) For this model, you submit high-quality content for a blogger to publish to her readers. It's important to think about what her readers will enjoy, and not just about the "free exposure" you'll get. This is a symbiotic relationship. You give your best content, and she shows off your awesome work to her readers. It's also an industry standard to link to all vendors who participated in a real wedding or styled shoot, which translates to a link to your website. This is good for both SEO and exposure. Earned media can also include when a blogger randomly shares your content on social media.
Paid Exposure: Like print magazines, wedding blogs run on an advertising model. You can pay a blogger to be listed in his or her directory, or to write about your business in a "sponsored post." You can even pay bloggers to share your content on social media! Paid exposure = Guaranteed exposure. When you are paying a blogger for advertising, you are paying for a guaranteed spot on her blog, whether it's in her directory, in a sponsored post, or having your banner in the sidebar. When you pay a blogger, you are paying for impressions. It's her job to get eyeballs on your business. It's your job to be compelling enough to turn those eyeballs into traffic, and that traffic into clients.
Some bloggers also give publication and social media preference to their directory members. However, others do not, so it's best to read the fine print. Also, don't assume that just because they will give you publication preference that you can send in mediocre work. You can't and you shouldn't – for your own brand's sake. First, bloggers need to continue to deliver high-quality content to their readers, so if your submission or guest post isn't up to snuff, you will get a rejection notice (or worse, be ignored). This is a crucial part of the online publishing ecosystem. Think about it. If a blogger starts losing her readership because her directory members start sending in their weakest work, then we all lose. She no longer has traffic and you no longer have exposure.  Secondly, you want your best work showcased to potential clients. If you are sending your weakest work to a blog on which you're advertising, the potential clients will see that and possibly look elsewhere. In other words, it's not enough to simply be listed, you still need to earn the attention of brides who are coming to that blog for information and inspiration.
Paid Exposure = Lower Funnel Exposure
When a bride is browsing directory listings, she is further along in the planning cycle and is looking for more than just inspiration for her wedding pin board. She is looking to book vendors in your area! Again, it's your job to create a compelling enough listing (submit your best images, polish your description, and make sure you're active on any social media or blog links you list).
The Benefits of Wedding Blog Exposure
Both earned and paid media offer significant benefits, including:
SEO: Search engines (especially Google) still love inbound links from high authority sites. When you are featured on an established wedding blog (one that is at least a year old) Google will pass some of the blog's "authority" on to you, which means higher rankings for your site.
Exposure: Your work gets in front of the blogger's massive audience. Unlike a magazine, which gets thrown away, a blog post lives on the web forever for brides to find.
Traffic to your website: When bloggers feature you, you benefit from seeing some of their audience clicking through to your website. Again, it's your job to convert that traffic into paying clients. Bloggers get you the eyeballs and leads, you need to close the sale.
Social Media: Many bloggers will also promote vendors (especially their advertisers) on social media, which increases your exposure. Platforms like Pinterest have the added bonus of acting as a search engine for brides as well.
Top 10 Tips for Leveraging Wedding Blogs to Market and Grow your Business
1. Set Clear Goals and Measure Them
Figure out what your goals are for both paid and earned exposure, and measure them. For example, you may want to leverage social media exposure to build your own social media audience, or use extra web traffic to get email sign ups in order to continue the conversation with potential clients who visit your site. Whatever goal you set, please keep in mind that a potential client will be engaged in an extensive research phase. It is rare indeed that a bride will book you directly from a social media or blog post. Wedding blogs refer traffic to you. When you're setting up your goals, be realistic. It's your job to convert that traffic into paying clients over time.
2. Focus on Fit, First
Don't go for the spray-and-pray approach to marketing. Unless you are a major brand with tens of millions of dollars to spend on marketing, the spray-and-pray method never works. Instead, look for blogs that are a good fit for your brand and who have built an audience of brides who would genuinely be interested in what you offer and where you offer it. Then set your marketing goals. I always recommend having a way to capture and nurture any referral traffic you get, so you have an opportunity to turn extra traffic into paying clients. Which leads me to my next tip…
3. Have a Lead Capture System for New Traffic
Ultimately, you're trying to grow your business. But raw traffic won't necessarily equal to more bookings. One the one hand, it has to be qualified traffic. (See the tip about focusing on fit, first.) On the other hand, brides are in the midst of intense research. They may or may not remember or bookmark your website, even if they love your work! Make sure you have another opportunity to reach them by setting up an email list. Offer them something awesome in exchange for their email. It could be an eBook or something like a 5-part email series on the best venues or the best vistas for portraits. Whatever it is, make sure it's truly valuable. Once you have her email address, you can start having a conversation with her and lead her through your sales funnel. Don't wait, hope, and pray for them to find you again. Invite them into a conversation with you! Don't forget social. You can have a link in your Instagram profile, pin a tweet, or a Facebook post and use the Facebook opt-in function to promote your eBook or educational email series.
4. Opt for Variety
It's great to be featured on a big name blogs, but don't discount the power of smaller niche and local or community blogs. They can give you a variety of inbound links (which search engines like) and also help you get in front of highly-qualified traffic. For example, if you are a Tampa Bay wedding vendor, Marry Me Tampa Bay would be a great fit. It may not get as much traffic as Green Wedding Shoes, but its traffic is more likely to book you because she serves brides looking to get married in Tampa Bay.
5. Only Put Your Best Work Out There
I have a directory member who is one of the top vendors in her field. She has been featured in every major wedding blog and magazine, including Martha Stewart Weddings. Her style is distinctive and her brand is strong. One day, I was chatting with her on the phone and she revealed something that blew my mind. She said, "I have a whole bunch of weddings from this season, but none of them fit my brand, so I can't submit them to you. I won't even put them on my blog".
Now you may be thinking to yourself, "Wait a minute! Everyone's wedding is special and everyone deserves to be published". While I agree that every wedding is indeed special, and everyone's wedding may "deserve" to be published. I would also argue that not every wedding you work on is a good fit for or reflection of your brand. Not every bride is your ideal bride. You know it and so do I. Blogs are a great way to attract your ideal bride. When you work with blogs, be selective about what you publish because whether you like it or not, it will be a reflection of your brand and you will start attracting brides similar to the ones you showcase. Like attracts like.
6. Read the Submission Guidelines and Fine Print for Advertising Carefully.
At the end of the day, bloggers are thrilled to promote your work. However, each blogger has unique submission guidelines that are optimized for their website and audience. Your best bet for a smooth and successful publication process is to follow them precisely. This includes preferred images sizes, the couple interview, and her exclusivity policy. While it takes a bit of work to submit to multiple blogs with individual policies, if you're focusing on the perfect fit and your ideal bride, the effort will be well worth it. Make sure you understand what you are getting for your advertising dollars and what you are responsible for. If you are purchasing a directory listing, you may be responsible for getting high-quality, professional photos submitted to the blogger. To maximize your exposure, you may be asked to contribute content or to guest post. Lastly, like magazines, blogs give you exposure and traffic. It's difficult for blogs to directly book brides for you. Focusing on fit and having a lead-generation system in place to capture and convert traffic is your responsibility.
7. If You See a Problem, Reach Out Immediately AND Be Nice!
One of the biggest issues that comes up in the publication cycle is proper crediting. Here's a big secret. Because bloggers weren't at the wedding, they have no idea who worked on it. They rely on the photographer (or the bride, if she's the one submitting) to give them complete and accurate vendor credits. If you worked on a wedding that has been published and don't see your name, by all means, reach out. Bloggers actually want to make sure credit is given where credit is due. But please, also be nice. Going on the attack doesn't make anyone feel good and is a poor reflection of your ability to be professional and handle stress and less-than-ideal situations. Also please be patient with a blogger's timeline for when she can change the credits. Many bloggers work with VAs and need to connect with them. Others have day jobs, and still others may just be in the backcountry or on a boat in the islands and unable to login and make changes straight away. I promise that wedding bloggers want to give you credit. I also promise that they didn't leave you off unintentionally.
8. Turn Yourself Into a Marketing Machine for a Day
So you got published on a blog you love. YAY! Now it's time for you to shout it from the rooftops, too. The web is a social place and to maximize your exposure and to show your appreciation, get in on the action when the blogger is promoting you. Like a comment on Facebook and Instagram posts. Retweet. Heart. Pin and share  the link. You can even spread the love by tagging additional vendors. This also builds a stronger relationship with bloggers and can lead to them spontaneously sharing your work in the future.
9. Grab a badge.
Many bloggers offer a "Featured On" badge you can display on your website. Be sure to link to your actual post or an archive page tagged with your name (if available) to show potential clients that your work is publishable and to let them get a sense of the quality of work that you do. Also, your ideal bride will be thrilled to see that you've been published on some of her favorite blogs. Remember, like attracts like.
10. Celebrate!
Seriously! Take time to honor yourself for your achievements. Wedding bloggers often get dozens (and some get hundreds) of submissions in a single day and only a few will be published! If a blogger loves your work enough to share it with her readers, that's cause for a celebration. Pop open a bottle of bubbly, go grab some margs with the girls, share the good news on social (see tip #9) and by all means pat yourself on the back for a job very well done!
*This article originally appeared in Honeybook January 2016