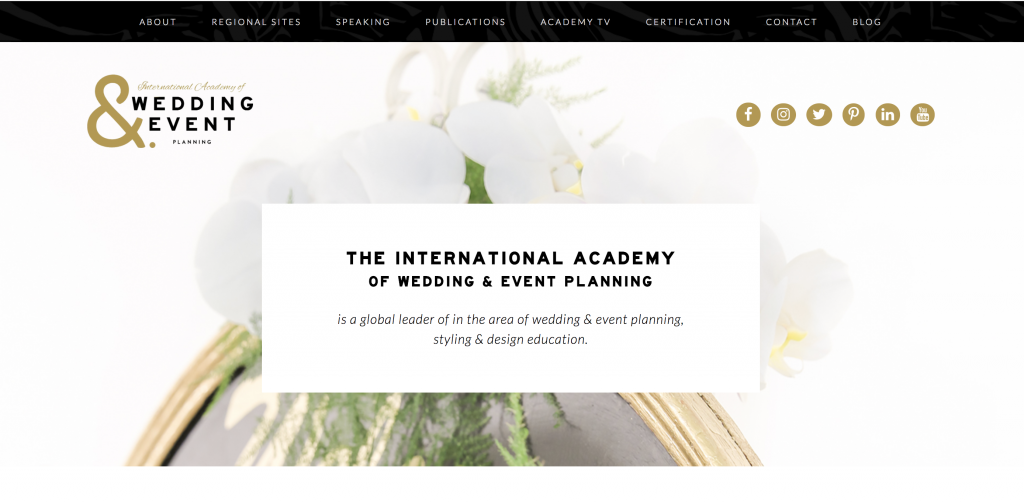 FOR IMMEDIATE RELEASE
The International Academy of Wedding and Event Planning (IAWEP) is pleased to announce their 2018-19 Advisory Boards.
"2018 has already been an exciting year for the International Academy of Wedding and Event Planning," shares Kylie Carlson, the Academy's CEO and Founder.  "With that, we're thrilled to continue the momentum by assembling top industry thought leaders from around the world."
Christie Osborne of Mountainside Media will be joining the North America Advisory Board, where she will contribute their input into course materials, provide guidance for Academy students and share their insight with Wedding Business Magazine, as well as the annual International Wedding Trend Report.
"I believe high-quality education and certification are essential in the wedding and event industry, not just for running a business but also for serving our clients," Christie Osborne states.
"Certification says something about a business owner: It says, 'I am a professional; I can run a successful business; and I promise to take care of my clients," Osborne adds. "I am honored to have the opportunity to support the industry in this way."
The Academy currently has campuses in UK, Australia, New Zealand, the UAE, South East Asia, and North America. In total, fifty wedding professionals were selected globally for the honor.
"It has been a true honor to pursue our role as a global leader in wedding and event planning, styling and design education, and we are quite fortunate to welcome this elite group of professionals to the team," adds Carlson. "Now more than ever, it's essential we maintain an international vision as we look ahead to what's to come."
About Mountainside Media
Mountainside Media is a marketing and consulting firm serving the wedding and event industry, specializing in content strategy, paid advertising strategies, conversion optimization, and marketing ROAS/ROI.  
About the International Academy of Wedding and Event Planning
With six online campuses globally, the International Academy of Wedding and Event Planning boasts an internationally recognized accreditation program that brings professional training to wedding planners, event planners, event designers and wedding stylists.