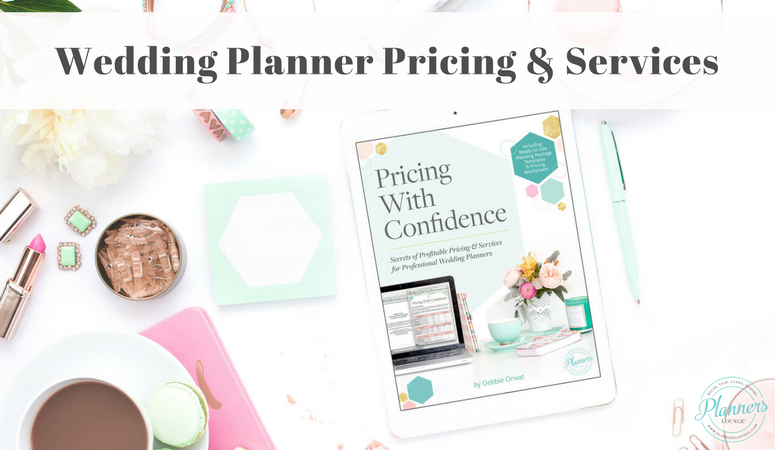 Wondering how to price your wedding planning services? You're not alone. One of the biggest questions I hear from wedding planners is: How do I price my services. Nearly every major wedding conference covers the topic is some way, shape or form. And, of course, to varying degrees of satisfaction.
And still, every year, the question persists.
Debbie Orwat, founder of The Planners Lounge aims to change that for wedding planners who seek true and actionable ways to price their services so they make the money they want to and grow healthy businesses.
She has recently written a new eBook called the Planner's Lounge Guide to Pricing with Confidence: Secrets to Profitable Pricing & Services for Professional Wedding Planners.
Unlike some books out there (eBook and otherwise), Debbie doesn't go on and on about how awesome she is or how successful she's become (even though both statements are true). Rather, she respects the readers time by getting straight to the tactical info that will help wedding planners make decisions to move their businesses forward immediately.
The book is broken up into three main sections that cover the following steps, effectively:
Step 1: Figure Out What Types of Services you'll Offer
Debbie won't let you simply fly by the seat of your pants and guess at what services you should offer. She lets you know which services and packages are the most successful in the industry and takes you step by step through the process of outlining what each service entails and offering ready-made templates using the information on your website and in proposals and meetings.
As a veteran in the industry, Debbie guides the reader through practical tips for baking in boundaries while still providing exceptional service. For example, Debbie shows you how to end the unlimited phone calls and texting policy  (that so often create chaos) in favor of a more practical, graduated access with increased, immediate access closer to the wedding rather than during the entire 6-12 month contract.
She breaks down the services and processes on a month-to-month timeline for each package she covers.
Step 2: Figure Out Your Desired Income
The real magic of pricing happens when you get clear on how much you want to make. Not in some big, arbitrary annual income goal, but rather how to use a calculated hourly rate to set your services base rates.
Whether you charge your clients by the hour, a flat fee or a percentage of their event budget, understanding an hourly breakdown of your time will give you great clarity for evaluating whether or not you are undercharging. The PLanner's Lounge Pricing GUide walks you through the entire process, from setting a desired annual gross income to breaking down your time into possible billable hours and accounting for non-billable hours.
Step 3: Map Out the Inquiry To Booking Process
Once the client makes an inquiry and you check for available dates and good fit, you'll sit down for a consultation where you get information on the client needs, desires, budget, and challenges. You'll use all of that information to put together a proposal.
Debbie has included an Excel spreadsheet in the Planner's Lounge guide to Pricing with Confidence that you can use to calculate appropriate and fair pricing based on the model of your choosing (hourly, flat fee or event percentage).
Debbie makes it easy by giving sample services that should be included, as well as ideas for services or important details that are not included in the price given. An example of this would be wedding weekend lodging for the wedding planner and assistants if you opt to bill the client for lodging on the final invoice instead of including it as part of the initial fee structure.
Bonuses Included with the Book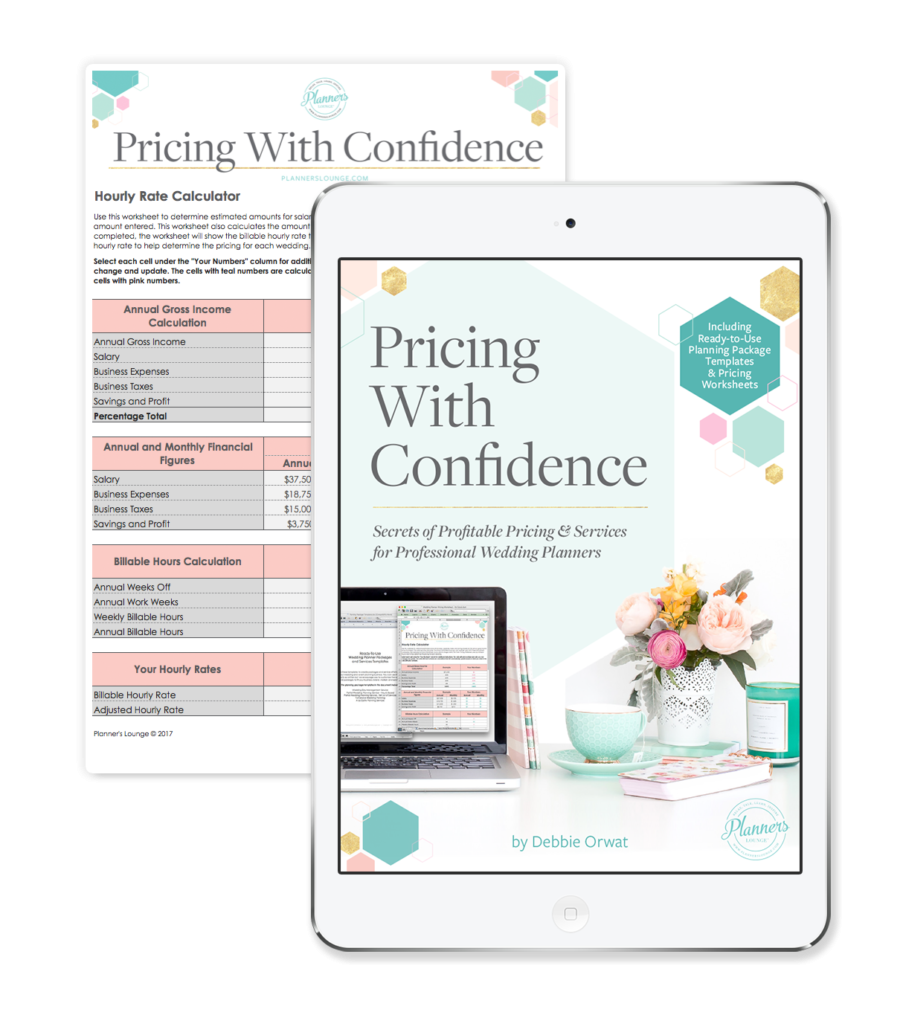 Ready to Use Wedding Planner Packages and Services Templates (RTF and Word formats)

Wedding Day Management Services
Partial Wedding Planning Service (both service and hourly based)
Full-Service Wedding Planning
A La Carte Planning Services

Wedding Planning Pricing Worksheet (Excel and Google sheets format)
The Lowdown
Price: $47
Pages: 81
Format: eBook (PDF download)
Instant Access: Yes. Click here.
Recommended: Yes!
Final Thoughts: Theory is nice, but so many books and resources offer lots of great ideas and leave you confused about where to start or how to actually do the things that are advised. Not the Planner's Lounge. The Planers Lounge is actionable from start to finish with tons of great examples and samples you can modify to fit your needs.